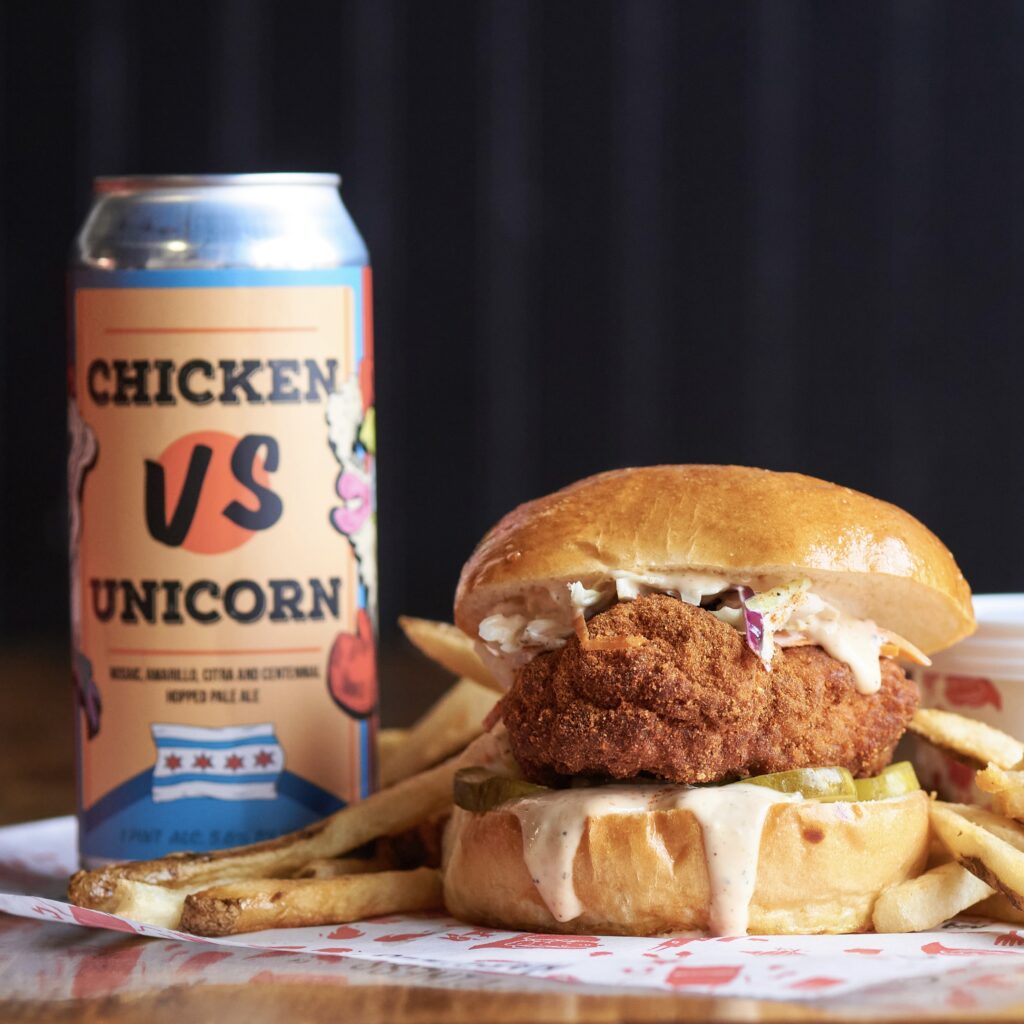 Chicken Vs Unicorn American Pale Ale by Pipeworks Brewing Co. paired with a chicken sandwich from Fry the Coop
The Craft Beer and Food Pairing Guide to Chicago
Craft beer is great, but pairing it with an amazing dish elevates the entire experience. It's always about the beer and food pairing for us. Here is a Beer Food Pairing Guide to Chicago.
Finding great beers to pair with great food is a life-long learning process that's best enjoyed with friends and family. Getting perfect beer food pairing recommendations from other people is key, so we decided to ask some of our favorite brewers, the question,  "What are some of your favorite local places for the perfect beer food pairing?
Chicago is our kind of town when it comes to food and beer pairing. Your options are limitless and go well beyond hot dogs and deep dish pizzas. These suggestions come from our friends at Funkytown Brewery, three childhood friends (Richard Bloomfield, Zachary Day and Gregory Williams) who  know the city and it's craft beer and food scene well.
Enjoy and be sure to share your favorite beer food pairings in the comments below.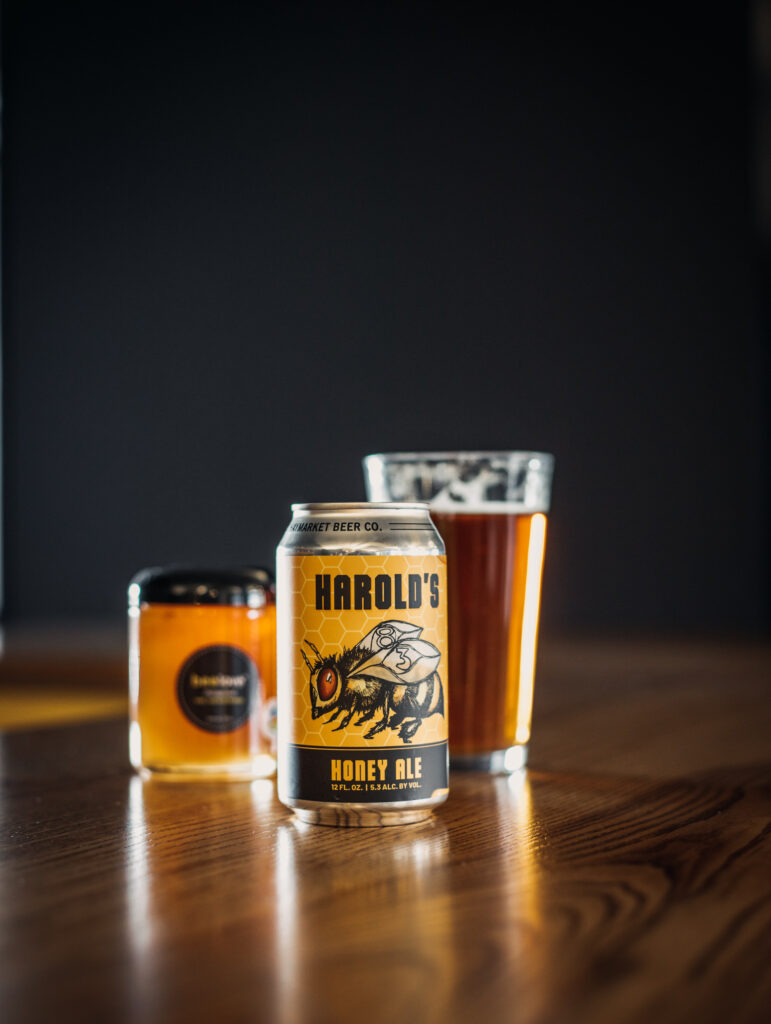 Harold's 83 Honey Ale by Haymarket Brewery
Haymarket Brewery
BEER & DISH: Harold's 83 Honey Ale paired with 6-pieces of saucy fried chicken from Harold's Chicken #88
 *note: This beer was created by Sam Ross and Jay Westbrook, black brewers in Chicago, and prepared by Haymarket Brewery. ——->
The melanoidin character from the Vienna and Honey malts complement the bready, toasty notes of the fried chicken while the honey brings the flavor home with a sweet and savory finish to the pairing.
Harold's Chicken #88: 1450 S Michigan Ave, Chicago, IL 60605   t.

(312) 964-5003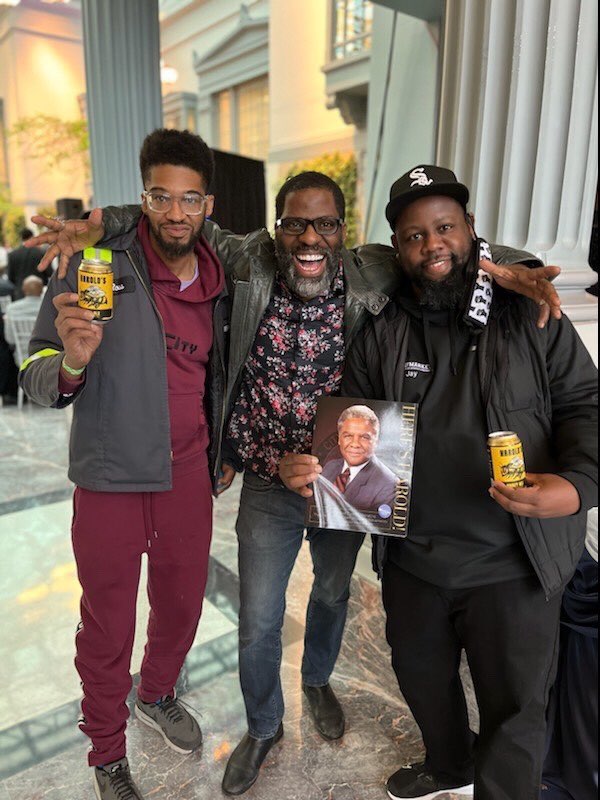 Chicken Vs Unicorn American Pale Ale by Pipeworks Brewing Co.
Pipeworks Brewing Co.
BEER & DISH: Chicken Vs Unicorn American Pale Ale paired with Chicken tenders from Fry the Coop
This crisp pale ale pops with notes of mango and melon. The Smooth citrus flavors cut through the crispiness of the fried chicken while creating a harmonious blend of citrus and spice. The hopiness level is enough to stand up to whichever level of spice you choose.
Pipeworks Brewing Co. says, "Chicken vs Unicorn is a 5.7 Mosaic, Amarillo, and Centennial Hopped Pale Ale that was brewed with and exclusively for Fry The Coop to pair with their chicken sandos. We wanted to make a beer that really tasted like a beer – new school hops that are backed by a bit of piney bite from old(er) school Centennial hops. It's refreshing and light with enough body to support and back up all that flavor from Fry The Coop's sandwiches.
That's My Jam burger by Haymarket Brewery
Haymarket Brewery
BEER & DISH:'The Defender' American Style Stout paired with the That's my Jam burger.
The burger is made with two beef patties, fontina, bacon jam, sunny side up egg, and kewpie mayo on a brioche bun.  The beer is named after The Defender, a Chicago based African-American newspaper founded in 1905.
This big malty stout goes perfectly with the That's My Jam burger. Roast and chocolate notes blend with the griddled beef patties and sweet and savory bacon jam. Umami flavors round out the middle and creamy mayo and a sunny side up egg bring out the full mouthfeel of the pairing. The finish has just enough hop flavor to stand up to such a flavorful dish.
'The Defender' American Style Stout by Haymarket Brewery